OUTDOOR TRACK
Our outdoor track features our fastest karts!
We offer two options for the speed enthusiast with our Busch Karts and our Cup Karts.
Outside Track Requirements:
Busch Karts
You must be 56" tall
Cup Karts
You must have a Thunder Valley Driver's License*
You must be at least 63" tall
You must be 18 years old or older
Cup kart rides $5.00
NO Open Toe shoes are allowed on the outside track.
THUNDER VALLEY
DRIVER'S LICENSE   $12.50
Thunder Valley license is required to drive the Cup Karts on our outside track. Must be 18 years old & 63" tall with valid Govt. issued ID to receive. One time license fee.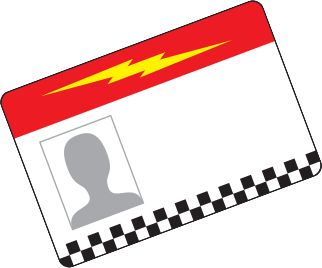 Inside Track Requirements:
Driver of 2-seater – must be at least 56" tall and
have a DMV License
Passenger of 2-seater – must be between 36" – 56"
You must be 56" tall to drive in full speed race/
51" for reduced speed race.
GO KART
rides are   $4.00
Armbands are valid for 2 hours unlimited indoor karts, kiddie karts,
outside Busch karts, lazer tag & mini-golf.
Armbands do NOT include Cup Karts.
April Pricing per 2 hour session

Thursday: $10 (valid 5:30-9:00pm) | Friday: $14 | Saturday: $18 |  Sunday: $16
Last Armband Time:  Saturday is 6:30-8:30pm; Sunday is 4:30-6:30pm
KIDDIE KARTS
Our kiddie karts are perfect for your little one! Just fast enough to give them a thrill but safe and secure to give you piece of mind.
Kiddie Kart Requirements:
You must be 41" – 56" tall to drive kiddie karts
on our KIDDIE KART TRACK!!!
Kiddie Karts are only $4.00 per ride